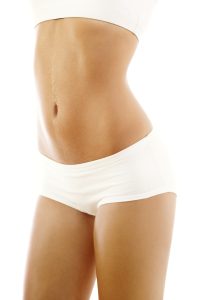 Mommy makeover involves a combination of two or more cosmetic surgery procedures designed to restore a mom's pre-pregnancy figure. Like any other surgery, a mommy makeover will have certain risks associated with it. During the initial consultation, the surgeon will apprise the patient of the potential risks and benefits.
The first goal of a responsible surgeon will be to provide transparent information to the patient on all aspects of the surgery, and help her make a well-considered decision. Board certified plastic surgeon Dr. Gary Motykie MD provides mommy makeover to patients in Beverly Hills, West Hollywood, Los Angeles, and surrounding communities.
New Medical Research on Safety of Mommy Makeover
Many women are under the impression that a major procedure such as a mommy makeover will have higher risks than a single body contouring surgery. However, researchers now have more reassuring news for patients. Several recent research studies have demonstrated the safety of multiple cosmetic procedures when performed in a single operation.
One of the studies published in the pre-eminent medical journal Plastic and Reconstructive Surgery examined a consecutive series of 415 tummy tuck procedures. Out of these patients, 151 combined their tummy tuck surgery with a breast surgery. The researchers found no increase in the complication rates in that group.
According to the lead author of that research project, "This landmark study supporting the safety of combined plastic surgery operations should come as reassuring news for patients who desire more than one procedure and a single recovery period."
Common Risks
While the safety record of mommy makeover is high as long as it is performed by an experienced and preferably board certified plastic surgeon, some of the risks that are typically associated with any surgery are also to be considered in case of a mommy makeover. The typical risks include:
Infection

Bleeding

Blood or fat clots

Deep vein thrombosis

Adverse reactions to anesthesia

Hematoma or other fluid accumulation

Nerve damage

Unfavorable scarring

Changes in skin pigmentation

Asymmetry

Need for revision surgery
Scarring Risks
An experienced surgeon will make use of common incisions to perform multiple procedures in a mommy makeover as far as possible. This will help minimize subsequent scarring. However, some scarring is still inevitable in any surgery, including a mommy makeover.
A few visible marks will remain, particularly if the procedure involves a tummy tuck or another extensive surgery. A skilled surgeon will place the incisions in discreet locations to minimize the visibility of scars.
How to Reduce the Risks
To begin with, the patient should ideally choose an experienced plastic surgeon who is also board certified by the American Board of Plastic Surgery. The patient should be prepared to diligently follow the surgeon's pre- and post-operative care instructions.
She should avoid smoking, eat a balanced diet, get plenty of rest after the surgery, take the antibiotics and other medications as prescribed, and wear the compression garments to support healing and produce enhanced aesthetic results. Tremendous and sagacious Dr. Gary Motykie MD receives patients from Beverly Hills, West Hollywood, Los Angeles, and nearby areas in this section of The Golden State for mommy makeover.
To see more services and treatments provided by Plastic Surgeon, Dr. Motykie in Beverly Hills | Los Angeles and his team please visit: