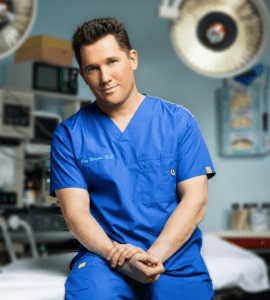 Dr. Gary Motykie is a highly recognized, board certified plastic surgeon providing a wide range of cosmetic and reconstructive surgery as well as non-surgical procedures. Dr. Motykie is known for his expertise in procedures such as breast surgery, rhinoplasty, body contouring, and facial rejuvenation. He is a designated "Top Doctor" on RealSelf, the leading cosmetic surgery website featuring patient reviews.
Dr. Motykie's authority in the field can be gauged from the fact that nearly half of the surgeries he performs are revision procedures, which are usually more complicated. He focuses on achieving optimal results the first time through a combination of latest surgical techniques and his customized treatment approach to every procedure. He provides procedures for the breast, body and face to patients in Beverly Hills, West Hollywood, Los Angeles, and surrounding communities.
Education and Experience
Dr. Motykie earned his board certification from the American Board of Plastic Surgery. He completed his residency in plastic surgery from 1999 to 2004 at the University of Texas Medical Branch, Galveston, TX. He followed it with a fellowship in advanced cosmetic surgery in 2004.
Dr. Motykie has worked for the last 11 years to provide cutting edge cosmetic surgery procedures through his practice, while adopting an integrative approach that allows him to focus on the health, wellness, and nutrition, while pursuing the surgical aesthetic goals of the patient. He believes that aesthetic procedures should be about enhancing the overall health and appearance of an individual from inside out.
Awards and Honors
Dr. Motykie is a renowned plastic surgeon receiving patients from Beverly Hills, West Hollywood, Los Angeles, and nearby areas. He has earned numerous awards for his contributions to the field of aesthetic surgery, which include:
America's Top Plastic Surgeons, Consumer Research Council of America: 2006 to 2012
Patient's Choice Award, American Registry: 2009
American Medical Association, Physician's Recognition Award, 2009, 2005
Marquis Who's Who in Science and Engineering, 2011-12
Celebrate Life Foundation, Physician Recognition Award, 2007
Cambridge, Who's Who Among Executives and Professionals in Healthcare, "Honors Edition" 2007 to 2012
Media Appearances
Leading national publications such as the New York Times, Wall Street Journal and LA Times have published articles featuring Dr. Motykie. He has appeared as a regular surgeon on the the E! Channel's Dr. 90201, Celebrity Plastic Surgery, The Doctors, Marie Show, Dr. Phil, MTV, VH1, EXTRA, ACCESS Hollywood, Inside Edition and the Discovery Channel's Plastic Surgery: Before & After.
Memberships
Dr. Motykie's past and present memberships of various professional organizations include:
Tau Beta Pi, National Engineering Honors Society
American Medical Association (AMA)
Plastic Surgery Research Council (PSRC)
American Society of Plastic Surgeons Candidate (ASPS)
American College of Surgeons (ACS)
American Society of Aesthetic Plastic Surgery (ASAPS)
International College of Surgeons, United States Section
Community Involvement
Dr. Motykie formed a nonprofit organization in 2008 called The Healing Curve. The organization has a primary goal to help patients who cannot afford to seek surgical repair of physical deformities resulting from birth, cancer, trauma, or a previous unsuccessful surgery.