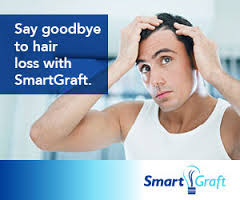 SmartGraft hair restoration is a cutting edge technique to replace natural looking hair in a less invasive manner.
At the time of pre-op consultation, the treatment provider will educate the patient about various aspects of SmartGraft treatment and discuss its pros and cons. Some providers may also present SmartGraft hair restoration before and after photographs at this time.
Dedicated treatment providers will always try to ensure that the patient has clear and transparent information about SmartGraft hair restoration and its potential benefits and limitations. Dr. Gary Motykie MD is a board certified plastic surgeon providing SmartGraft to patients in Beverly Hills, West Hollywood, Los Angeles, and surrounding communities and cities in this region of the southwestern part of America.
What are SmartGraft Before and After Pictures?
Before and after pictures in case of SmartGraft hair restoration refer to a pair or group of images pertaining to an earlier patient who has received the same procedure with a satisfactory outcome. The images include pictures taken prior to the procedure and after the procedure at a stage when the full hair re-growth has been achieved.
The treatment provider will ensure that the photographs are taken with the proper consent of the patient and presented before new patients in an appropriate manner. As per the standard protocol, the patient's identity may be kept confidential. The provider's sole purpose in this exercise is to use these photos as a visual aid to educate new patients about what SmartGraft can or cannot do for them.
Benefits
In many cases, the patients seeking hair restoration have already tried several treatments and procedures but with little success. Therefore, they may be apprehensive about the actual results and efficacy of the SmartGraft technique. The treatment provider can address their concerns and make them feel reassured by presenting before them SmartGraft before and after photos belonging to actual past patients.
Patients can visualize how their new hair style may appear, and feel assured that no prominent linear scarring will show in the back of their head with SmartGraft. Dr. Gary Motykie MD receives patients from Beverly Hills, West Hollywood, Los Angeles, and nearby areas for SmartGraft and various other cosmetic procedures.
The real difference maker here is website pictures which will be emphasized again on this page. Digital technology has made this possible and now patients can pretty much predict the future. They can see in clarity what they will look like after this procedure which means they do not have to be so worried when going into this surgery. This lessons the anxiety for everyone since they are more on the same page.
Being Realistic
In any cosmetic procedure, the best patient satisfaction levels are typically achieved when the patient has a positive mindset, clear aesthetic goals and realistic expectations. Therefore, experienced treatment providers prefer to present SmartGraft hair restoration before and after photos at the very outset.
Once the patient knows what to expect and what not to expect from the procedure, they will be able to make a more judicious choice. Such patients will usually be more appreciative of the final results in the end. The risk of any disappointment or misunderstanding for the patient is mitigated with this effort.
Online Photos
The treatment provider has the option to upload the SmartGraft before and after photos on their practice website in a dedicated "Image Gallery" section. If the practice has an active social media presence, it is also a salient idea to share the photos on widely popular social networks such as Facebook and Instagram to increase awareness about cutting edge procedures such as SmartGraft.
Now the other positive attribute of Dr. Motykie's practice is that potential patients can see these pictures according to their own proclivity. They can look at these pictures from their office, cubicle, home, or at a coffee shop, it does not matter. They can be contemplating this without anyone being the wiser. Digital technology has been embraced by so many industries and the plastic surgery community is certainly one of them.
Click here for Virtual Consultation
To see more services and treatments provided by Plastic Surgeon, Dr. Motykie in Beverly Hills | Los Angeles and his team please visit: