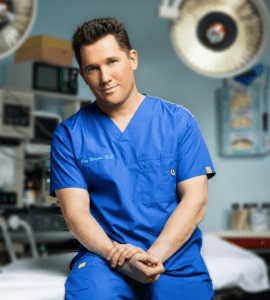 Breast reduction is a cosmetic surgery procedure designed to remove excess breast tissue and skin to make oversized breasts more proportionate to the rest of the body. The procedure must be performed by a fully qualified and experienced plastic surgeon, preferably having a board certification from a prestigious board of plastic surgery.
Dr. Gary Motykie MD is a leading, board certified plastic surgeon providing breast reduction and various other surgical and non-surgical procedures. Dr. Motykie will combine the principles of science and art to produce predictable, sustainable and highly desirable aesthetic outcomes. Patients in Beverly Hills, West Hollywood, Los Angeles, and other areas have an opportunity to receive cutting edge procedures from Dr. Motykie.
Consultation with Dr. Motykie
At the time of pre-op consultation, Dr. Motykie will explain all aspects of breast reduction surgery and allow the patient to ask all possible questions frankly and clarify their doubts and concerns. At this stage, Dr. Motykie may provide a "breast book" to the patient to review numerous photos of different sizes and shapes of breasts to help them determine their aesthetic needs more clearly.
He will produce outcomes that are health promoting, holistic and meeting the unique aesthetic needs of the patient as closely as possible. Dr. Gary Motykie MD spends adequate time discussing with the patient about various nuances in order to prepare a customized breast reduction surgery plan.
Safety First
Dr. Motykie makes sure that safety remains the overriding priority over every other consideration in breast reduction cosmetic surgery. He will review the patient's detail medical history, have them undergo a thorough physical exam and obtain certain lab tests as necessary prior to the procedure.
He will encourage the patient to have a stable weight before they decide to go for breast reduction surgery. In many cases, Dr. Motykie may recommend the patient to undergo a wellness program before the surgery in order to achieve safest and optimal outcomes.
Breast Reduction Procedure
Dr. Gary Motykie MD will work only with a board certified anesthesiologist to administer general anesthesia in case of breast reduction surgery. He will perform the procedure at a fully accredited (AAAASF) surgical center equipped with state of the art technology and providing the highest quality care and service.
Prior to the breast reduction procedure, Dr. Motykie will personally make the necessary markings on the breasts as per the surgical plan. Following general anesthesia, he will reduce the breast tissue, fat, and skin in a targeted manner. Additionally, he may reduce the size of the areolas and lift them to a higher level on the breast mound to create a more youthful breast appearance.
Post-Operative Phase
Once the procedure is completed and the patient has fully recovered from anesthesia, Dr. Motykie may allow her to go home with a responsible adult. He receives patients from Beverly Hills, West Hollywood, Los Angeles, and nearby areas for breast reduction surgery.
During the immediate post-op phase, nurses will be by the patient's bedside to help her recover properly. If the patient wants to stay overnight, Dr. Motykie's team will arrange their stay at an outpatient recovery retreat.